Kia Ora from The Principal
Even with the changing climate our learners are still fully engaged in learning and are clearly enjoying the many vibrant and exciting learning experiences that their teachers have planned for them, we are so proud of them all!
We would like to take this opportunity to say that we understand and empathise with our whānau and learners who are experiencing challenges and navigating covid protocols. This is a difficult time for many and I thank you all for continuing to work with us.
As per yesterday's communication next week we shift to hybrid learning for a week. All learners will be onsite for a total of 3 days and complete home learning on the other 2 days. During the at home learning, teachers will send out a zoom invite to maintain contact with their learners and to guide them through the learning at home expectations. All learning for all ages is housed on our school website. Please go to https://www.alfriston.school.nz/home-learning/ to access learning that is leveled and selected to meet the learning needs of your child.
Carla Cook
Staff profile
Class news – Room 12
Celebrations of learning
Upcoming events
Other news
Family & Friends news
Welcome to Alfriston School & birthdays
Important dates, calendar
Staff Profile – Mrs Jane Keys
I have worked in the school office for a few years now and my daughter, Greer, attended school here before she went to Pakuranga College. My favourite things are swimming, word games, and reading. I would really like to do more art like painting or pottery. We are getting a new kitten soon so looking forward to that. At home, I like to grow my own veggies, mainly little cherry tomatoes and salad ingredients.
I have big plans to plant more fruit trees too. On holidays I like to go new places and try new things. This year we went to Whakatane. We sailed out to Whale island. Jetboated up the Motu River. Did the Awakeri Rail trail where we got to stop and see NZ's largest trees the Kahikatea and feed, like, 100 chickens and roosters. (Greer did not like the chickens)
I love that the learners at Alfriston are so happy to be here. It is lovely that they say, "Good Morning" when they come in, some even running to classes. You can also"hear" it during break times with the laughter and squeals.
Kia ora from Room 12.
Throughout this term we have been involved in a wide range of activities to develop our connectedness and respect for and for each other. These activities, coupled with our curriculum learning have meant we are growing as a team and understanding that support (tautoko) is key to all of our success.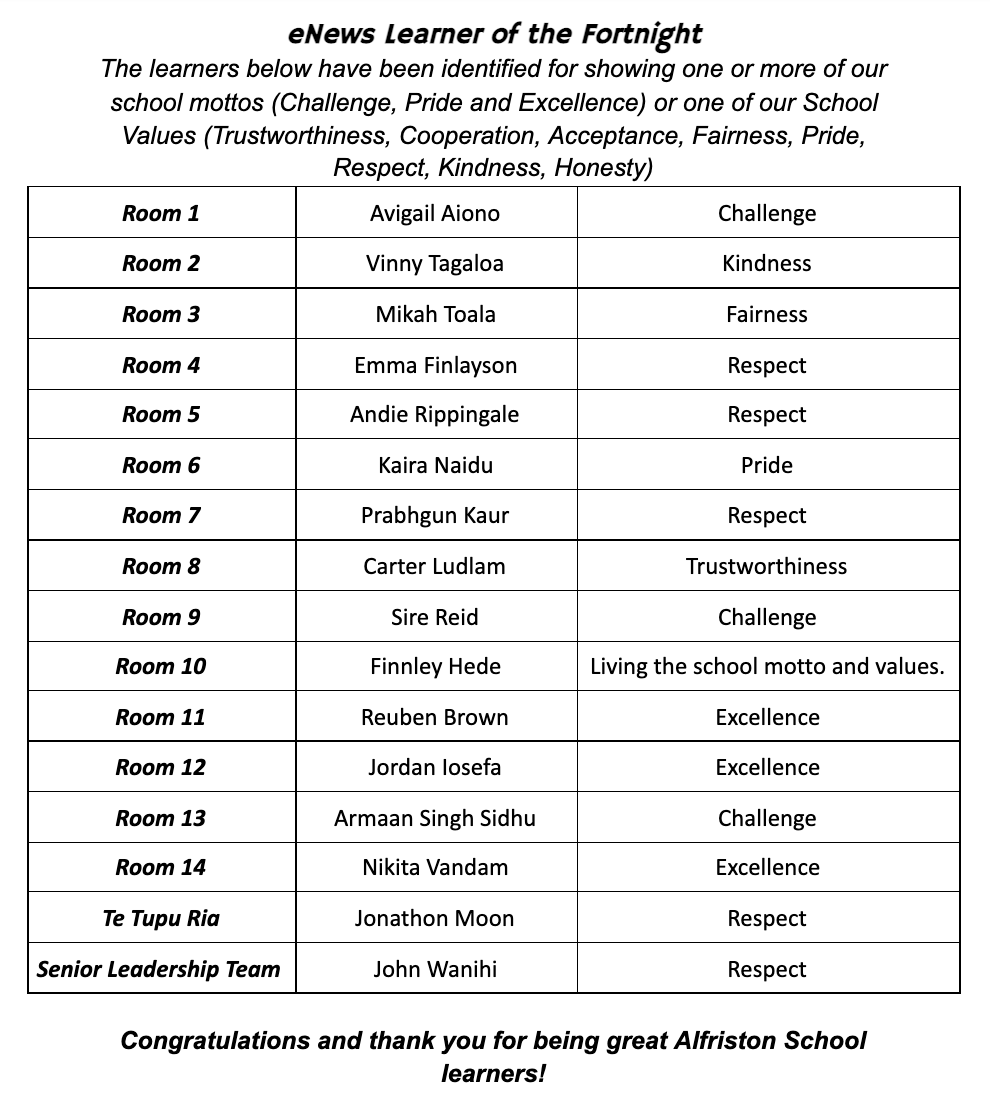 Funky Friday – Friday 18th March
Remember to come to school next Friday dressed Fun and Funky!
Iceblocks can be preordered on Kindo – no cash sales sorry.
IMPORTANT DATES
Board of Trustees meeting:
Monday 21st March at 7pm
If you are using AT School Buses
We are trying our best to make school bus services our priority and run most school bus services to a regular timetable. However, we are expecting to see last-minute cancellations due to the spread of Omicron in the community. Although we're working hard to update cancellations in our systems, there may be some occasions when these are last-minute and can't be communicated in time. If any of your bus services do not arrive on time, please liaise with the students, and request them to find or use alternative transport options.
FUNKY FRIDAY
We had a lot of fun with our first 'FunkyFriday' this week, where the staff arrived at school wearing PINK! Next week is Funky Friday and we invite all learners and staff to wear Funky clothing to school – there will be awards for Best Dressed for real Funky clothing.

Alfriston School is excited to be hosting a Netsafe webinar on Wednesday 23rd March at 6:30 pm. You will be able to attend this informative presentation from the comfort of your home and it is catered for parents, caregivers, & Whānau of all year groups.
In this presentation, Netsafe Education and Schools Team cover key online safety messages for parents and whānau. They provide information and tools to support your tamariki in navigating online environments and safely managing the challenges and risks.
The presentation will explore:
Quick starter tips for parents, whānau, and young people
Information to enhance your digital parenting knowledge
Details about the online risks and challenges your child may face
Advice about how you can help your child if something goes wrong online
Join Zoom Meeting – Wednesday 23rd march 6:30pm
Calling all interested parents and whānau to an exciting upcoming meeting about Alfriston schools Family & Friends team. This is a committed group of creative, organised and community-focused individuals who enjoy planning whole school events for our tamariki and fundraising for new things our learners can enjoy. If this sounds like you or you would like some more information. Please email your interest to Jessica Lammmie at
jlammie@alfriston.school.nz
Save the date for the meeting: Monday 21st March, 7pm via zoom.
Thank you and looking forward to seeing you at the meeting.
We have no new learners this week, but continue to welcome our Tu Tupu Ria learners as they get used to life at Alfriston School!
Kate Finlayson, Charlotte Mouton, Joshua Prasad, Shyla Pratap, Srihan Patlori, Luke Buttle, Noah Siope, Bria Sitzer, Mason Yang, Raymond Bishop-Lematua, Harkirat Saggi, Harveer Bandechha, Navdeep Garcha,mEthan Lee Sang, Artyom Yashin, Ansh Talwar, Ekampreet Kaur.
2022 TERM DATES:
TERM 1
Thursday 3rd February – Thursday 14th April
TERM 2
Teacher Only Day – Monday 2nd May
Students return to school Tuesday 3rd May – Friday 8th July
Thursday 23rd June – Teacher Only Day
TERM 3
Monday 25th July – Friday 30th September
TERM 4
Monday 17th October – Thursday 15th December
Teacher Only Day – Friday 21st October
School hours:
We ask that all learners be at school by 8.30am each day to prepare for their school day.
8.45am:
Learning starts
10.40am – 11.00am:
Morning tea break
12.30pm – 1.30pm:
Lunch break
2.45pm:
School finishes
Gates remain open until 3.15pm daily
Please monitor the website and communications with regard to staggered pick up times.