Kia Ora from Mrs Cook
Kia ora Alfriston School Whānau,
I always like starting my newsletter piece with positiveness, however, I feel it is important I put the most information first today.
COVID19 UPDATE – IMPORTANT
You may have heard in the media Auckland is experiencing its second wave of Covid19 cases. On top of this are the normal winter bugs we experience at this time of year.
Finding relievers to cover unwell staff is becoming a real struggle and we anticipate it is going to get even harder in the coming months.
I need to advise you that there is a possibility we will need to move to Distance Learning for part or all learners if we are unable to staff the school adequately. This is not a decision we take lightly, however, it is important we have the staff to manage the school in a safe manner.
A reminder…please do not send your child(ren) to school if they present as at all unwell. Symptoms may include but are not limited to:
Runny nose

Headaches

Fatigue

Sore throat

Sore stomach

Fever

Coughing

Body aches
If your child complains of any of these symptoms whilst at school, we will require you to collect them.
Please ensure you are receiving our newsletters and emails so that you do not miss important information and updates.
Second-Hand Uniform Shop Re-opens
A big thank you to our fantastic Family & Friends team who have committed to reopening the second-hand uniform shop (the boiler shed). This will be open for purchasing second-hand uniforms every Wednesday 2.30-3.00pm. Please contact the school office if you have any uniforms to donate.
Carla Cook
Staff profile
Class news – Rooms 5, 7, 8
Celebrations of learning
Upcoming events
Other news & reminders
Family & Friends news
Welcome to Alfriston School & birthdays
Term dates, School Times
Kia ora! My name is Johanna Mouncey-Reedy (I go by Miss Mouncey around Alfriston School) and I teach the lovely Year 3/4 ākonga in Room 2. I have lived in Auckland most of my life but also lived in the South Island for a few years, in Christchurch and Dunedin. I definitely prefer the climate in Auckland!
In my spare time, I enjoy running, reading, cooking and traveling. There is so much more of New Zealand that I would love to see. My roots are Samoan and Dutch, which is a very interesting mix. I have loved being able to return to Samoa to see family and hoping to do so again soon when the borders are open (fingers crossed!). In addition to teaching, I studied Psychology and Film and Media, which are both subjects that I am very passionate about.
I am very grateful to be a part of the Alfriston School community. I love helping students to feel proud of themselves in their learning and to inspire them to have a passion for lifelong learning as I have.
Room 5 – Our Learning
Room 5 has had a great start to the term and has been soaking up every learning opportunity they can. They have been working away like busy little bees on a range of learning activities. This is what we have been up to so far!
Writing: We write every day in Room 5 and have become super recount writers, especially when it comes to writing about our exciting weekends. We have been using our word cards and our alphabet and sound knowledge to sound out words as we write them. We also know it's important to have a capital letter at the beginning of each sentence and a full stop at the end. Here is Jaiveer, Parker, Grayson, and William with some recount examples. They even showed Mrs. Cook and Mrs. Galvin their fabulous writing and received a special sticker!

Topic: This term our Topic focus is Sustainability- Reduce, Reuse, Recycle. We have been looking at ways in which we can help the Earth.
We talked about what commitments we could make as humans that will help our planet over time and keep it happy. Here are our commitment posters.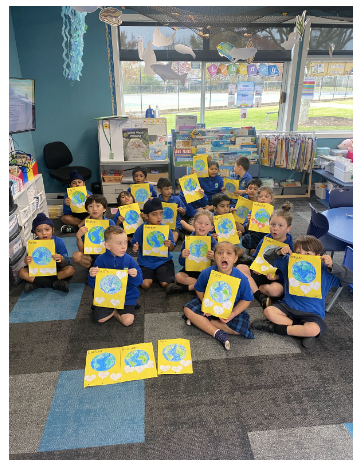 Room 5 has also been looking at the amount of food we waste everyday and we discussed ways in which we could reduce this. We talked about how we could recycle certain foods, for example: brown bananas into a banana cake or a half eaten yoghurt into a frozen ice block.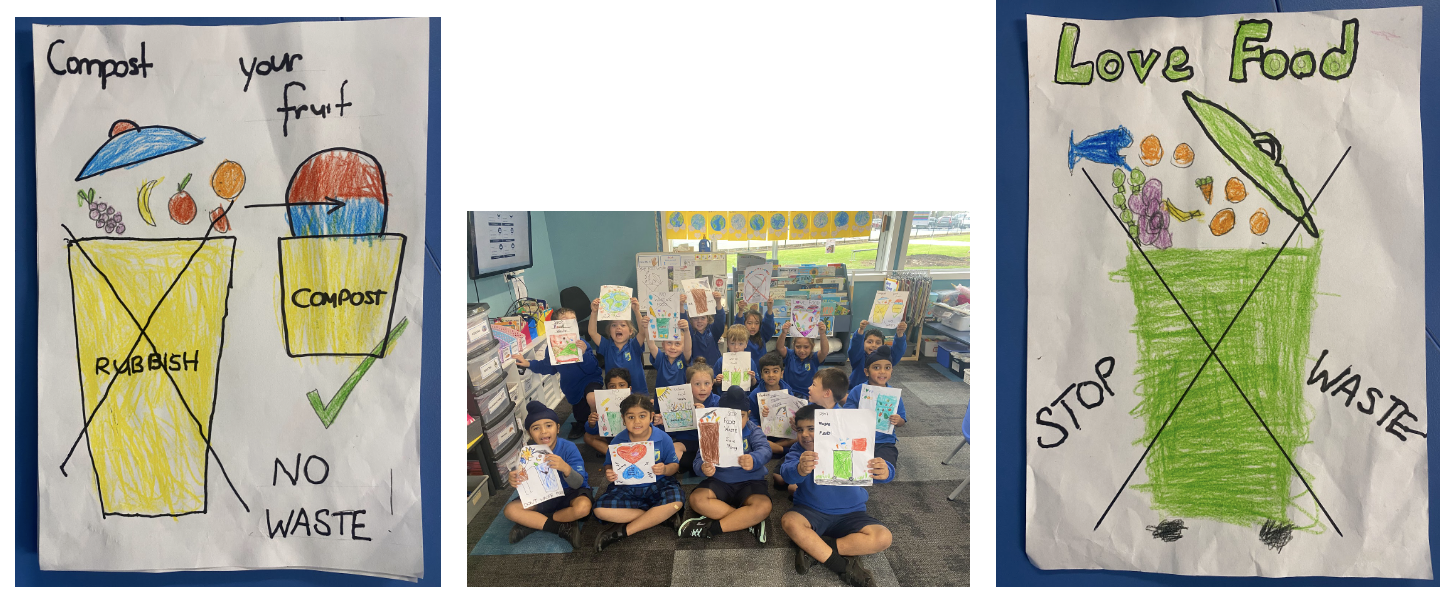 We have learned so many ways we could stop wasting food that we designed some posters to encourage people to think about what they are throwing away. Here are some of our posters.
Handwriting: Room 5 has been working super hard on their formation of letters and numbers using the Casey Caterpillar Programme. This programme is based on a shared story following the adventures of Casey the Caterpillar and the friends she meets along the way. Throughout the story, the children are introduced to different shapes that, when put together in different combinations, form the letters of the alphabet. Room 5 spent a lot of time practicing these shapes in isolation and then move on to combining them to form letters.

Room 7 – Our Learning
We have been talking about what learners do in our class. In groups we came up with all the things we do as learners in Room 7. And there were a lot! Some of the responses were to be proactive, be positive, do thinking and try your best. Mrs Ashby was impressed! Each day we discuss our plan for the day so that we are aware of what is happening and can get ourselves in the right frame of mind. We have also set our goals for Term 2 and are excited about achieving them.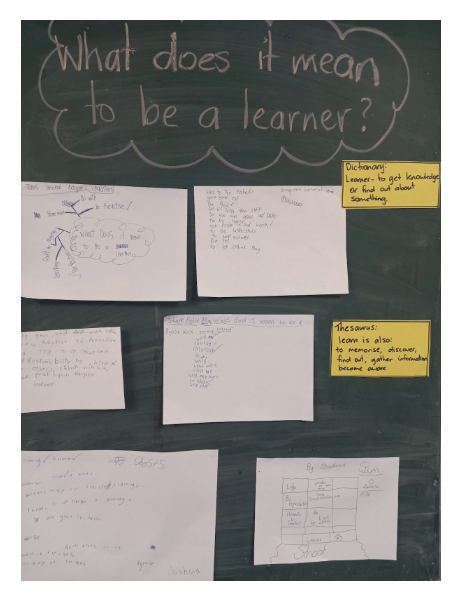 Our current topic is Reduce, Reuse, Recycle. We have looked at many items in our class to see what they are made out of. So many of them are made out of plastic! We have read a book called 'A Place for Plastic'. In the book it talks about how useful and helpful plastic can be. But it also talks about what happens when it is thrown out and discarded. We have been discussing (debating really!) the following: "Is there a place on Earth for plastic?"
What do you think?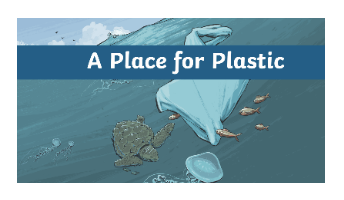 For technology we are looking at reusing plastic items. We are brainstorming ideas for how we can use these in new and different ways. Stay tuned for our designs and some prototypes!
Room 8 – Our Learning
Since the start of term 2 room 8 has been learning about different units of measurement during our maths sessions. We measured different objects in our classroom, even the turf!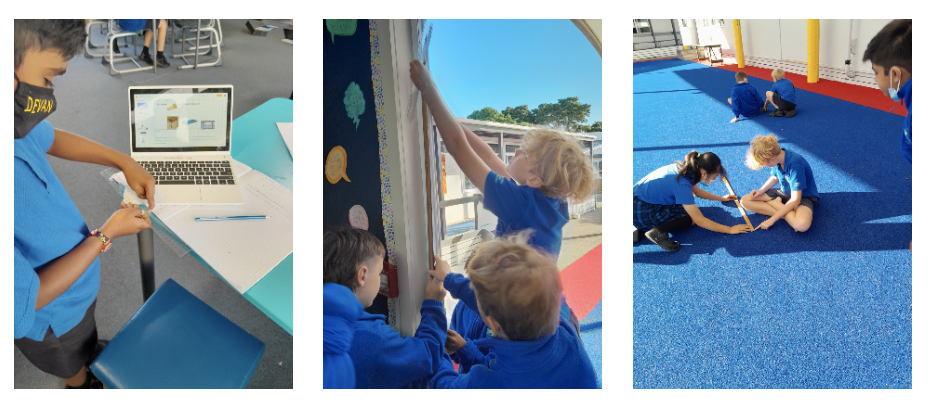 For art we let ourselves be inspired by Wasilly Kandinsky and created these magnificent abstract insects using water colour and vivid. We are all very proud of the end result!

PINK SHIRT DAY
On Friday 20th May Alfriston School was a sea of pink and our learners enjoyed the fun activities organised. I am thrilled to announce that we raised just over $370.00 to donate to the Mental Health Foundation. A big thanks to Miss Lammie who organised this wonderful event.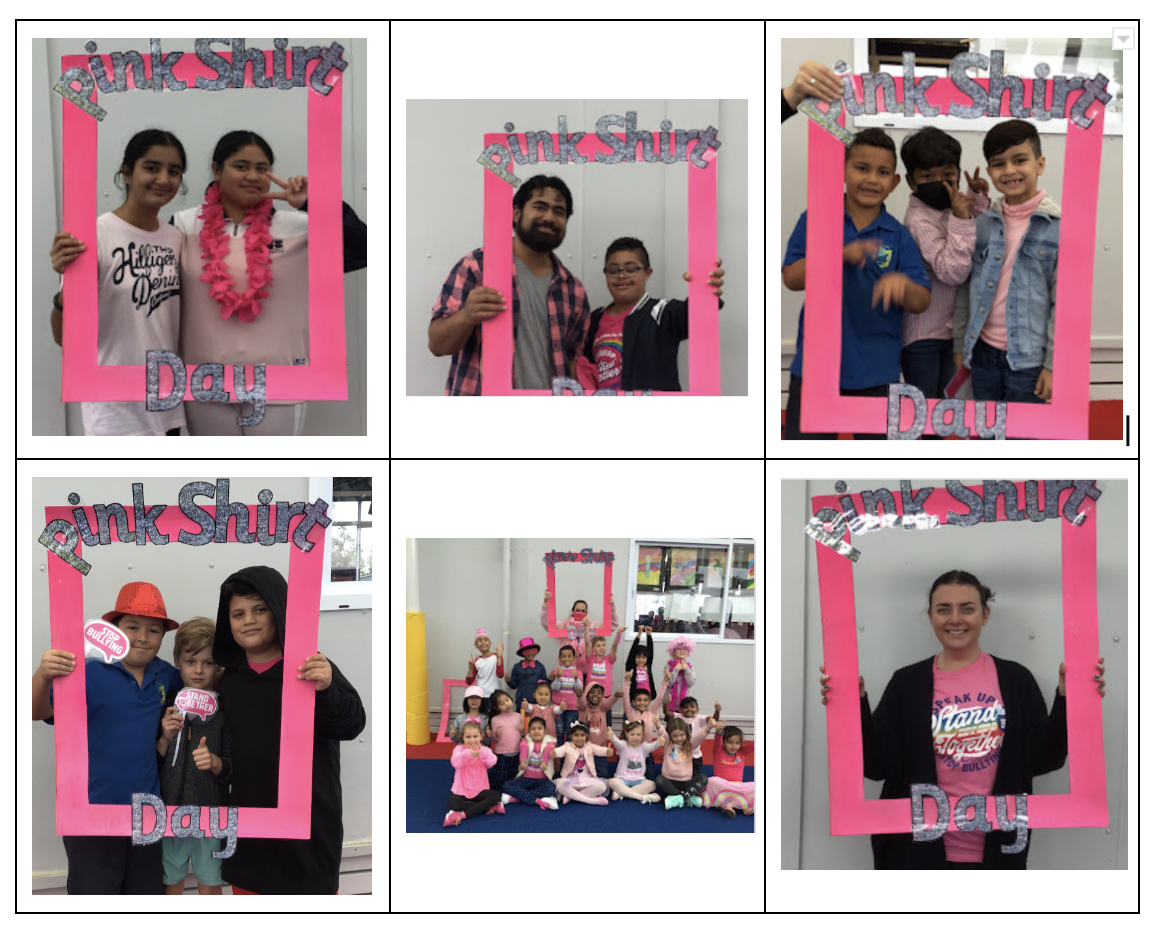 Book Week and The Scholastic Book Fair
Check your email for fliers outlining all of the exciting events coming up next week at Alfriston School for our annual Book Week.
Highlights:
– visiting authors across the week
– Scholastic Book Fair (Monday to Thursday straight after school in the Performing Arts Centre)
– Book Character Parade and Grandparents' Morning Tea (Friday 3rd June)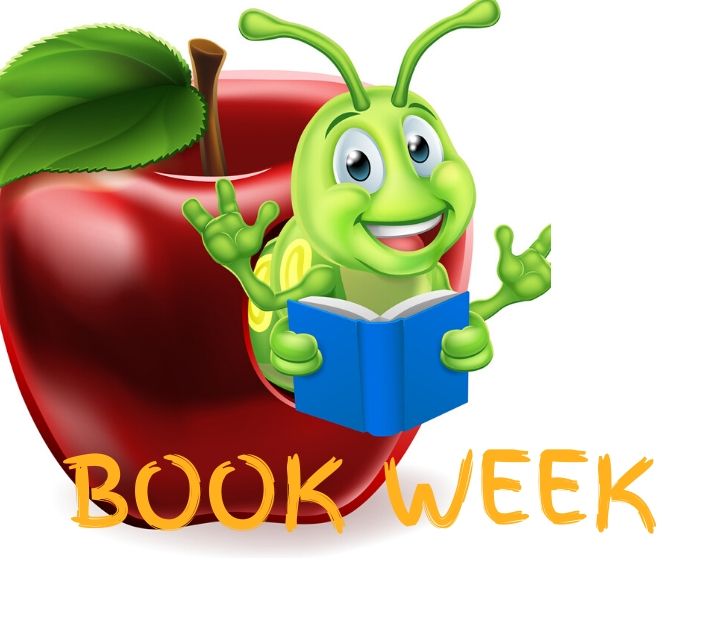 UNIFORM REMINDERS
Thank you to all learners who are wearing their uniforms with pride. A few important reminders in regards to Alfriston School's uniform expectations:
Shoes are to be all black
Alfriston School jackets are an additional layer of warmth, learners need to wear a school jumper in the first instance
The only jewelry to be worn is a basic wristwatch (no ability to communicate through the watch) and a plain stud earring in each ear
Nail polish is not to be worn to school
Learners are able to receive a uniform pass from the office if there is a reason for your child wearing incorrect uniform. Please send a note with your child to explain and we will organise the uniform pass.
We thank you for working with us to ensure our learners represent our school with pride and are safe whilst learning and playing.
LATENESS
As previously indicated it is vital learners are onsite and ready to start the day by 8.45am. The first 15 minutes of the school day set learners up for success. We are currently tracking lateness and will be in touch with whānau we are concerned about.
BOARD OF TRUSTEES ELECTIONS 2022
Please see the attached pdf for information about our 2022 Board of Trustees Elections, which will be held later in the year.
See attachment HERE
Grandparents' Morning Tea, Friday 3rd June 10.15am
Our amazing Family and Friends team will be providing morning tea and serving our Grandparents, alongside student leaders, next Friday during our special Granparents' Morning, which is part of the character parade to celebrate Book Week.
If you would like to help, please contact Jessica Lammie jlammie@alfriston.school.nz
Welcome to:
We welcome Indy Pham, Tisya Singh, Annika Dhabale, Aiya Al-Sagban to Tupu Ria!
Sire Reid, Harmeet Kaur, Jayden Yang, Joshua Davis, Sienna Voyce, Akaldeep Singh, Cindy Chen, Krishav Nand, Taika Matthews-Murray, Casey Smith, Zaleyna Naivaluvou
2022 TERM DATES:
TERM 1
Thursday 3rd February – Thursday 14th April
TERM 2
Tuesday 3rd May – Friday 8th July
Thursday 23rd June – Teacher Only Day
TERM 3
Monday 25th July – Friday 30th September
TERM 4
Monday 17th October – Thursday 15th December
Teacher Only Day – Friday 21st October
School hours:
We ask that all learners be at school by 8.30am each day to prepare for their school day.
8.45am: Learning starts
10.40am – 11.00am: Morning tea break
12.30pm – 1.30pm: Lunch break
2.45pm: School finishes
Gates remain open until 3.15pm daily