Kia Ora from Mrs Cook
It is wonderful to be able to open today's newsletter with some feedback from relievers and visitors to our school this week. Comments like 'What a lovely school', 'You should be very proud of your school', 'Your learners are wonderful', 'I look forward to coming back to Alfriston School'.
We ARE very proud of our school and we too have noticed how settled the learners are this term. One example of this was on Thursday when we had a fire drill. The learners were very sensible when moving to our assembly point and within 5 minutes of returning back to class learners were fully engaged in their learning. OUTSTANDING 🙂
——————————————————————
VISION AND VALUES COMMUNITY CONSULTATION
Our Vision and Values Community Consultation survey will be emailed out to all whānau on Monday. Please check your emails and we would really value you taking the time to share your thoughts and feelings with us. We really want the Alfriston School vision and values to represent our whole school community.
——————————————————————
BOARD OF TRUSTEES ELECTION
Board Elections Parent Election Results Declaration (no voting election required)
At the close of nominations, as the number of valid nominations was equal to the number of vacancies required to be filled, I hereby declare the following duly elected:
Arthur Chung, Paul Firth, Stu Hunter, Binu Rajendran, Paul Tonkin
——————————————————————-
Have an absolutely fantastic weekend and we look forward to Week 3.
Ngā mihi
Carla Cook
Whānau Assemblies
Tupu Tahi assemblies on Friday at 8.50am – Weeks 2, 4, 6, 8, and 10
Kotahitanga assemblies on Friday at 9.45am – Weeks 6, 8, and 10 (due to gymnastics).
These assembly dates and times are on our school parent calendar.
update…
Learners have now been emersed in the performing arts through the school production, with auditions for lead roles taking place on Wednesday. The learners are showing how enthusiastic and capable they are and we hope to be able to share show days and dates with you very soon.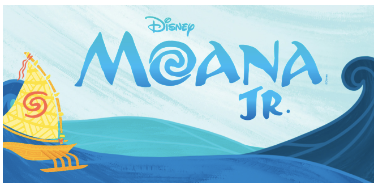 Cultural Groups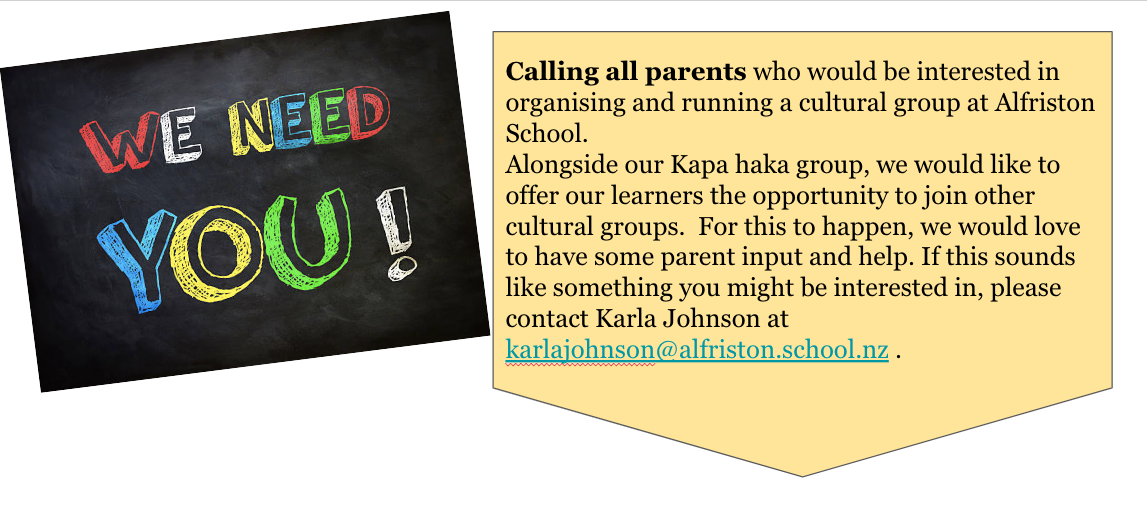 Staff profile
Class news – Room 1 and Room 2
Celebrations
Upcoming events information
Other news & reminders
Family & Friends news
Welcome to Alfriston School & birthdays
Term dates, School Times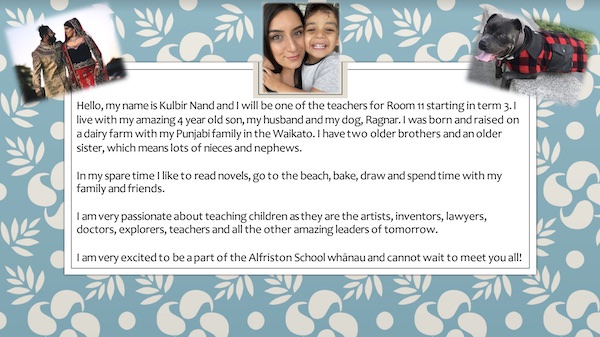 Room 1
Room 1 finished off the last term creating some amazing artworks. They were busy working on their art skills by using different materials and techniques. Learners created landscapes with watercolour paints. They had to be very patient creating these artworks and talked about mixing, brushstrokes, value of the paint colours, foregrounds and backgrounds. You can see these artworks on display in Room 1.

Room 1 also spent a week learning all about Matariki. The students learnt about the stars that make up the Matariki cluster and some of the different myths and legends about Matatriki. Room 1 also enjoyed learning about the Northern Lights. They ended the week by creating some artworks of the Matiriki cluster and the Northern Lights. Here are some of the artworks.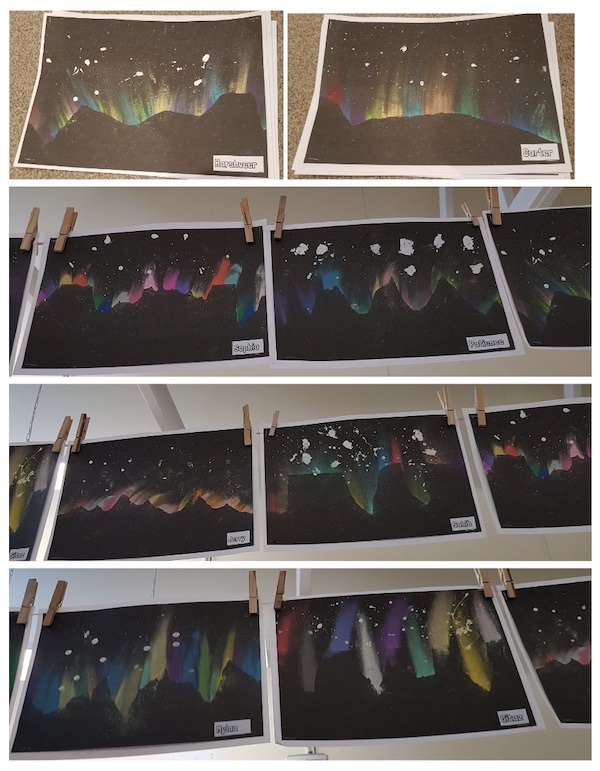 Room 2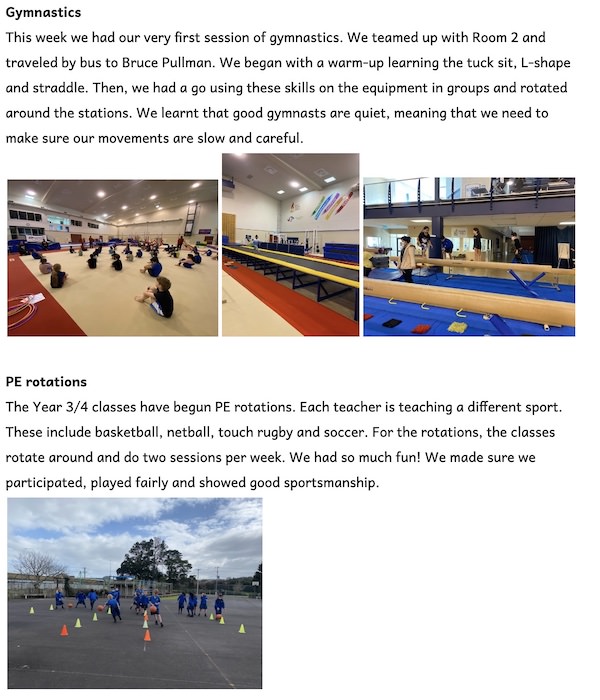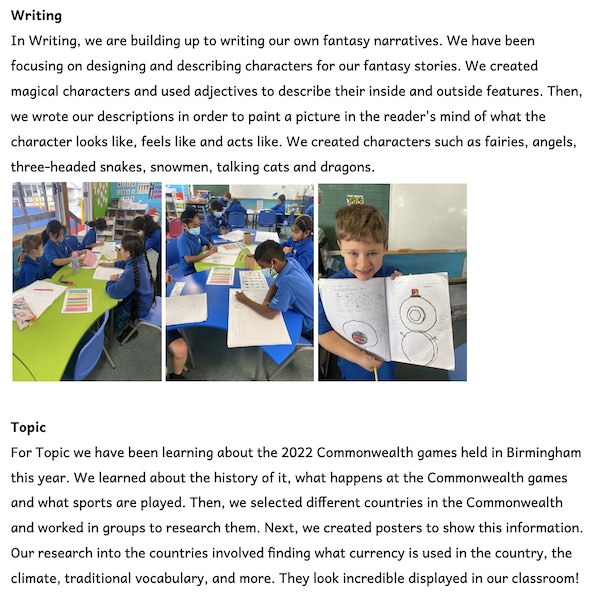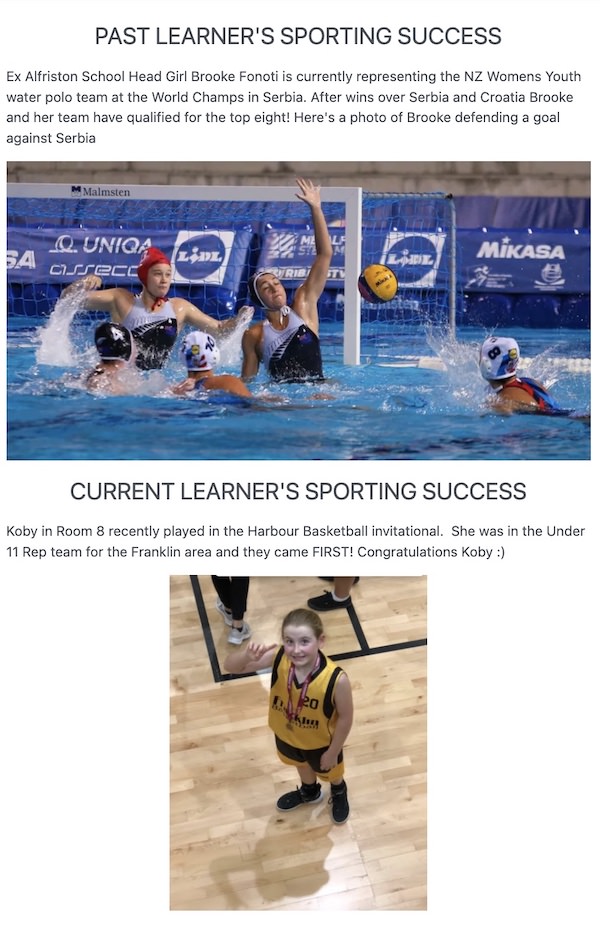 TERM 3
Parent Assemblies: Friday's – Even Weeks
Tupu Tahi (Year 0-4) assembly – 8.50am (19 August, 2 September, 16 September, 30 September)
Kotahitanga (Year 5-8) assembly – 9.45am (starting Week 6 due to gymnastics – 2 September, 16 September, 30 September))
Family and Friends Meeting
Tuesday 6th September, 7.00pm – in the staffroom
All parents / caregivers welcome – this is an opportunity to get to know other whānau and to be a part of our school community.
LATENESS
As previously indicated it is vital learners are onsite and ready to start the day by 8.45am. The first 15 minutes of the school day set learners up for success. We are currently tracking lateness and will be in touch with whānau we are concerned about.
Second-Hand Uniform Shop Re-opened
A big thank you to our fantastic Family & Friends team who have committed to reopening the second-hand uniform shop (the boiler shed). This will be open for purchasing second-hand uniforms every
Wednesday 2.30-3.00pm.
Please contact the school office if you have any uniforms to donate.

Welcome to:
We welcome back Harsurit Kaur who has joined Room 13.
Azaaleah Dowling, Tyler Riesterer, Jerry Zhong, Aaniya Ram, Rocco Davies, Manraaj Singh, Tyler-Laurel Mapa, Madison McKillop, Nikita Person, Caitlin Dorasamy, John Wanihi, Harkirat Sidhu, Manikin Penney, Noah Hunter, Amy Cullen, Dakshith Yachamaneni, Reuben Brown, Fiona Naivaluvou.
2022 TERM DATES:
TERM 1
Thursday 3rd February – Thursday 14th April
TERM 2
Tuesday 3rd May – Friday 8th July
Thursday 23rd June – Teacher Only Day
TERM 3
Monday 25th July – Friday 30th September
TERM 4
Monday 17th October – Thursday 15th December
Teacher Only Day – Friday 21st October
School hours:
We ask that all learners be at school by 8.30am each day to prepare for their school day.
8.45am: Learning starts
10.15am – 10.45am: Morning tea break
12.30pm – 1.15pm: Lunch break
2.45pm: School finishes
Gates remain open until 3.15pm daily