Kia Ora from Mrs Cook
I have just come out of the Tupu Tahi team assembly and again my tank is full 🙂 If you haven't attended a whānau assembly I encourage you to, they are wonderful celebrations of learning. Today's items were so adorable I have included links to them below.
TE TUPU RIA MĀORI LANGUAGE ITEM
——————————————————————
GYMNASTICS HELP – THANK YOU
With only one week of Bruce Pulman gymnastics sessions to go I want to say a big thank you to each parent/caregiver that assisted with a session. We are finding it hard to get help with offsite activities, so please know your time and effort is truely appreciated.
——————————————————————
VISION AND VALUES COMMUNITY CONSULTATION
This survey closed on Wednesday afternoon, however today I reopened it as requested by a few parents. The survey will be open for responses until 12pm Monday.
Thank you to the 42 whānau members who took the time to share their thoughts, these are going to be extremely valuable going forward. We will now collect staff and learner voice and take the time to analyse the information and create our draft Vision, Values and Principles.
——————————————————————
2023 ENROLMENTS
Now is the time to ensure you have enrolled any child(ren) due to start school in 2023.
In Zone and Out of Zone enrolment information and forms can be found on our school website. Please note we need one enrolment form per child.
——————————————————————-
Stay safe and dry on this windy, wet day!
Ngā mihi
Carla Cook
Whānau Assemblies
Tupu Tahi assemblies on Friday at 8.50am – Weeks 6, 8, and 10
Kotahitanga assemblies on Friday at 9.45am – Weeks 6, 8, and 10 (due to gymnastics).
These assembly dates and times are on our school parent calendar.
School Production Moana Jr.
TICKETS AVAILABLE NOW!
23rd September – 27th September
The cast of Moana Jnr. (Alfriston) have been very busy learning lines, rehearsing songs and polishing performances. So now it is time to announce the show dates!

Show times are listed below for our Alfriston families to attend.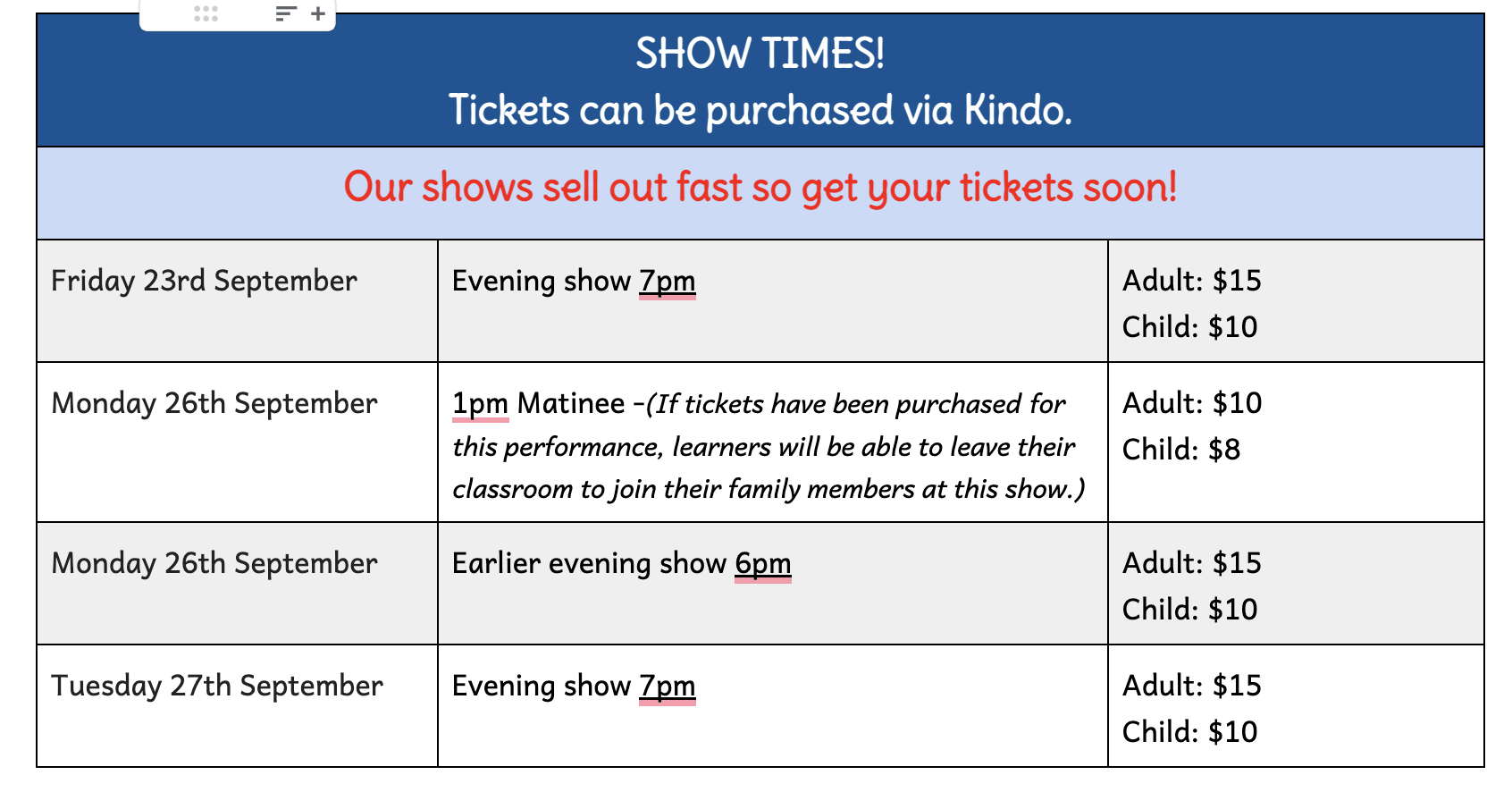 Cultural Groups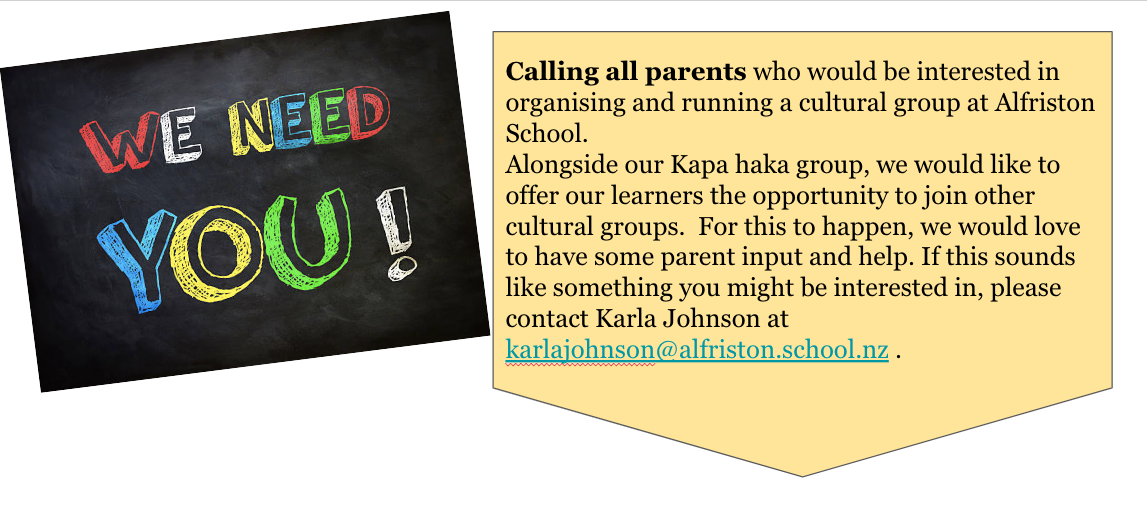 Staff profile
Class news – Room 3
Celebrations
Upcoming events information
Other news & reminders
Family & Friends News
Welcome to Alfriston School & birthdays
Term dates, School Times
Mrs Shona Scott
I have been teaching for 30 years in South Auckland and I very am passionate about teaching literacy and supporting the learners who find learning challenging or difficult. I am married with 2 wonderful sons and love my 2 small fur babies(dogs). Some of you will know I am a huge Warriors supporter and I am a frequent visitor to their souvenir shop, having many Warrior toys in my office to show the learners at school. It would take a very brave person to interrupt me while I am watching a game as I become very one-eyed. I love to have fun and some might even say I can be a bit cheeky.
ROOM 3 LEARNING
What is a minute?
This week Room 3 has been exploring the concept of Time as part of our Measurement Unit in Mathematics. We have been working in small groups to investigate how many times we can complete different tasks in a minute. Some of the tasks we have explored are the number of star jumps, how many times we can write our names and how many verses of the "Happy Birthday" song we could complete in a minute. It was a fun way to learn about measuring time. We also learnt that Mr Wallis can only draw 25 smiley faces in a minute!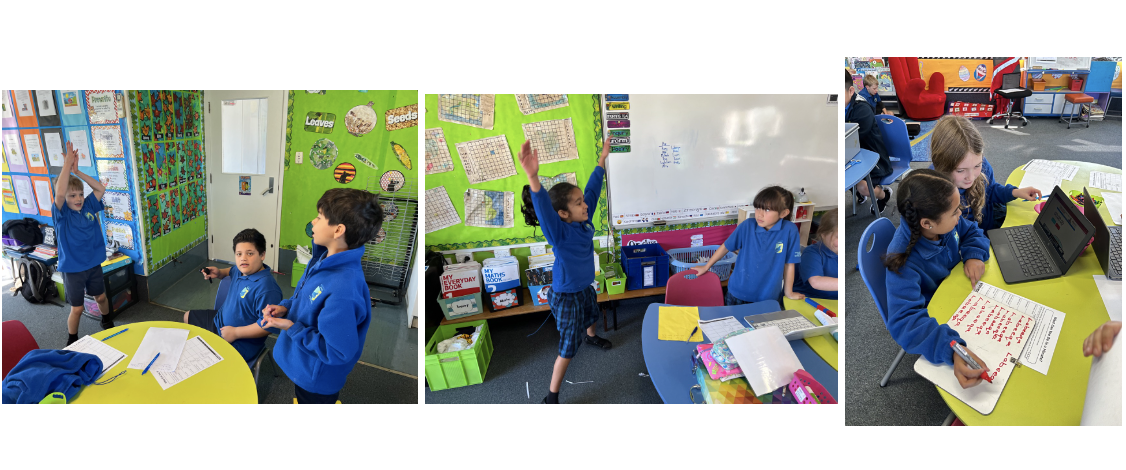 Gymnastics
This term Room 3 and 7 have been going to Bruce Pulman Park to improve our gymnastics skills and to participate in a range of different activities. We would like to thank the parent helpers for coming and assisting us with our learning. Without your help this awesome opportunity would not be possible.

KOTAHITANGA SPEECH WINNERS
Last Thursday the Kotahitanga team headed over to the PAC for the 2022 Speech Finals. All learners spoke confidently and capably, well done to the Year Group Winners:
| | |
| --- | --- |
| Year 5 | Gemma Blackwell |
| Year 6 | Carter Ludlam |
| Year 7 | Sophie Robinson |
| Year 8 | Elisha Hall |
COUNTIES CROSS COUNTRY
Today Gurneet Singh, Emi Summers, Jordan Iosefa, Akaldeep Singh and Makaiah Hall participated in the Counties Zone Cross Country competition.
The placings were:
Makaiah: 25th in Year 7 girls, Emi: 27th in the Year 8 girls, Jordan: 29th in the Year 8 girls and Gurneet: 14th in the Year 8 boys.
Special mention of Akaldeep as he placed 3RD overall in the Year 7 boys race…….absolutely fantastic Akaldeep!
All of these learners did extremely well and we are proud of their achievements.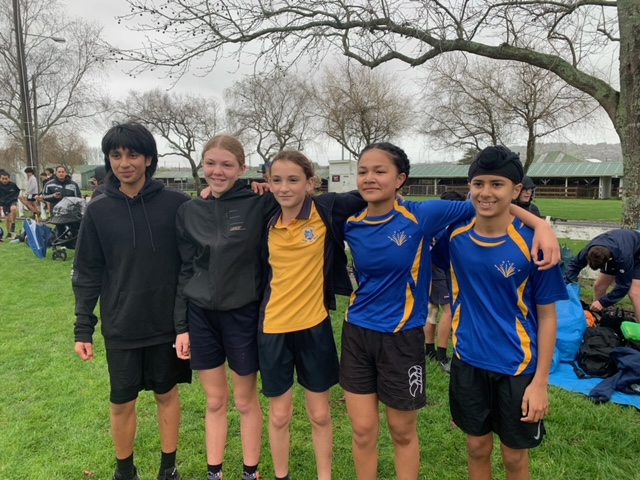 WPC TRIP: Mountain Biking -Woodhill Forest
Tuesday 23rd August – Learners will depart Alfriston School at 8.50am and return between 2.10 – 2.40pm. Whānau with learners who catch the bus might like to pick them up on this day, in case they return late due to traffic.
ICAS Science Exam
Thursday 25th August
Gymnastics
Next week (Week 5) is our last week of gymnastics. Tupu Tahi team (Year 0-4) participate on Monday and Kotahitanga team (Year 5-8) participate on Friday.
Family and Friends Meeting
Tuesday 6th September, 7.00pm – in the staffroom
All parents / caregivers welcome – this is an opportunity to get to know other whānau and to be a part of our school community.
LATENESS
As previously indicated it is vital learners are onsite and ready to start the day by 8.45am. The first 15 minutes of the school day set learners up for success. We are currently tracking lateness and will be in touch with whānau we are concerned about.
The Family and Friends are a group of dedicated Alfriston School whānau members who are always looking out for new and wonderful ways to fundraise and provide great experiences for our students. Past fundraising efforts by the Family and Friends (previously known as the PTA) have helped to provide the school with these things: lighting for the PAC, senior playground upgrades, roll-down blinds on the PAC, the junior playground, car jump start kit, kapa haka uniforms, picnic tables and much much more!
So far this year the Friends and Family have organised The Holiday Hamper Raffle, the Wheelathon and other things. Thank you for supporting the Wheelathon. We are pleased to announce that this raised an impressive $6200!
We are currently in the middle of organising the Calendar Art fundraiser. If you would like to support this initiative and purchase some awesome presents for loved ones you can make these purchases on Kindo now. Samples are available for viewing in the office and sales will close on August the 27th. Products should be printed and with you in Term 4. Please see the prices below:

We have more plans in the pipeline so keep a look out for more opportunities coming this year. This term we have an after school disco organised for the learners and coming up in Term 4 we are looking forward to a large-scale fun event! These events are successful when we have lots of caregiver support so please let me know if you are willing/able to help out.
If you would like to be involved in our Friends and Family meetings we have the next meeting coming up at 7 pm on Tuesday the 6th of September in the staffroom. Everyone is welcome to attend either in person or on Zoom. If you would like to receive a Zoom invite to this meeting or to discuss anything Friends and Family related please email Sarina Davies at sdavies@alfriston.school.nz.
Second-Hand Uniform Shop Re-opened
A big thank you to our fantastic Family & Friends team who have committed to reopening the second-hand uniform shop (the boiler shed). This will be open for purchasing second-hand uniforms every
Wednesday 2.30-3.00pm.
Please contact the school office if you have any uniforms to donate.

Welcome to:
We welcome the following new learners and their whānau to Alfriston School:
Viyana Viyyapur, Gurlal Singh, Rayan Attraqchi, Rishika Ray, Mihika Ray, Ari Voyce, Kirat Bhandohal, Huzaifah Raza, Hope Chang, Parmeet Singh, Prabhmehar Kaur
Birthdays
Finnley Hede, Fatima Zeeshan, Riley Stent, Stepan Yashin, Jackson Burgess, Anthony Thomas, Tanvi Naidu, Ava Pham, Aizza Amin, Louis Barrowman, Dhaanjog Maan, Emma Joll, Gitaz Virk, Adelyn Grootboom, Elisha Hall, Liam Douglas, Zidan Amin
Elizabeth Aiono, Zacheria Naicker, Charan Sidhu, Gemma Blackwell, Kaira Naidu, Srigranth Rao, Cruz Feagaimalii, Emily Kelly, Samarah Hassan, Madison Twentyman, Elijah Sitzer, Pranav Naidu, Manrajbir Ghumman, Leroy Sila, Sophie Robinson, Jayden Song, Hardit Mann, Jonathan Moon
2022 TERM DATES:
TERM 1
Thursday 3rd February – Thursday 14th April
TERM 2
Tuesday 3rd May – Friday 8th July
Thursday 23rd June – Teacher Only Day
TERM 3
Monday 25th July – Friday 30th September
TERM 4
Monday 17th October – Thursday 15th December
Teacher Only Day – Friday 21st October
School hours:
We ask that all learners be at school by 8.30am each day to prepare for their school day.
8.45am: Learning starts
10.15am – 10.45am: Morning tea break
12.30pm – 1.15pm: Lunch break
2.45pm: School finishes
Gates remain open until 3.15pm daily