Alfriston School Zone Map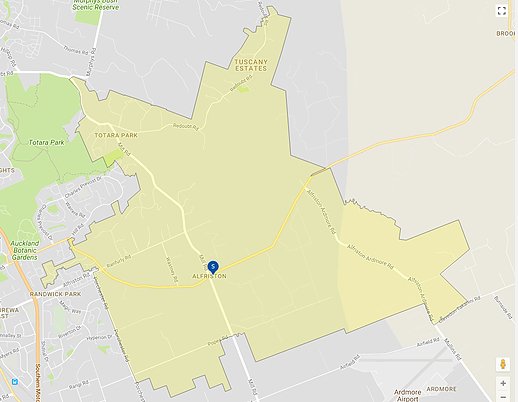 Alfriston School Zone by Street Name
Abilene Pl
Alfriston Rd (222-1550)
Alfriston-Ardmore Rd (Up to 269 & 278)

Amarillo Pl
Aunceston Rise
Cairnsvale Rise
Everlea Pl
Kinnard Lane
Michael Bosher Way
Mill Rd (Up to 356 & 359)

Notch Pl
Phillip Rd
Polo Prince Dr
Popes Rd (51 upwards)

Porchester Rd (391 upwards-odd numbers only)

Ranfurly Rd
Rathmar Dr
Redoubt Rd (228-744)

Saralee Dr (21 & 28 upwards)

Stratford Rd
Taipan Pl
Tiffany Close
Umbria Lane
Wastney Rd
Wedding Pl
---
Out of Zone Enrolments 
Out of Zone ballot for 2022 has been completed.
There are no Out of Zone placements left for 2022.
We currently have a very long waitlist of children balloted.
You are welcome to apply for the 2023 ballot. Applications will close in September 2022
The form to complete will be available online from 1 April 2022.