Alfriston School Zone Map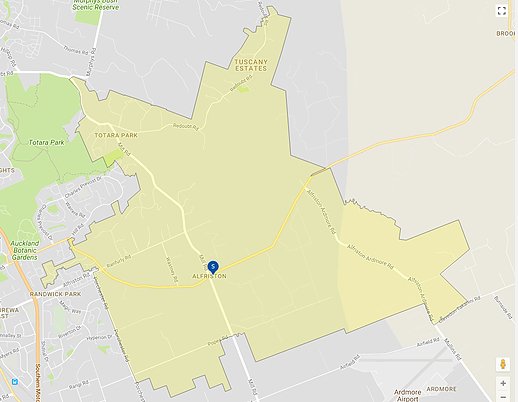 Alfriston School Zone by Street Name
Abilene Pl
Alfriston Rd (222-1550)
Alfriston-Ardmore Rd (Up to 269 & 278)

Amarillo Pl
Annmarie Ave
Aunceston Rise
Cairnsvale Rise
Cassie Close
Everlea Pl
Kinnard Lane
Michael Bosher Way
Mill Rd (Up to 356 & 359)

Notch Pl
Phillip Rd
Polo Prince Dr
Popes Rd (51 upwards)

Porchester Rd (391 upwards-odd numbers only)

Ranfurly Rd
Rathmar Dr
Redoubt Rd (228-744)

Saralee Dr (21 & 28 upwards)

Stratford Rd
Taipan Pl
Tiffany Close
Umbria Lane
Wastney Rd
Wedding Pl
---
Out of Zone Enrolments 
The application for the 2023 out of zone ballot is open. Click on the button below.
Deadline: 28th September 2022.
Ballot draw: 19 October 2022.
Results available: 21st October 2022.
A ballot means applicants are drawn out randomly when there are more applicants than places available. We
follow the Ministry of Education Priority listings. Please check their website for more information.
One application is needed for each child enrolling. It is vital you apply for all siblings, as often when an
intermediate is accepted, families want younger siblings to come also but have not applied for them.
No application = No enrolment
Do not complete more than one application per child. If you do so all applications will become invalid.
You will receive an electronic response to your application confirming we have received it. Ballot success and
unsuccessful will be emailed within 3 days after results have been received. You will be notified by email your
results.
There are currently no out of zone places placements available new Out of Zone applicants for 2022 school year.